Go beyond the pass and discover the art of fine dining!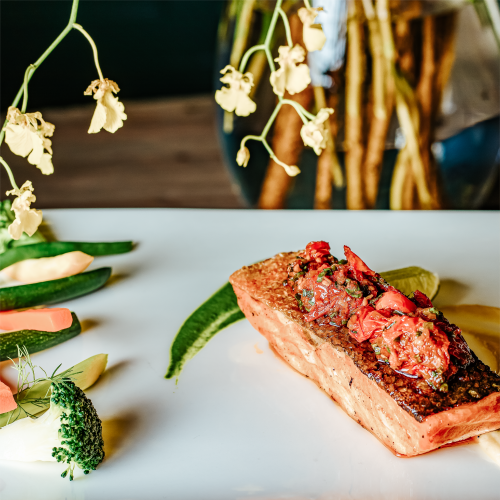 Grilled Scottish Salmon
Grilled salmon on a bed of spinach & chickpea puree, topped with plum tomatoes
Seafood Pasta
Spaghetti in homemade plum tomato sauce loaded with fresh mixed seafood
Apple Crumble
Apples with cinnamon, served with vanilla ice cream.
Masterfully Crafted Menus
Join us from breakfast to dinner and everything in between with our masterfully crafted menus. Featuring sumptuous dishes with a distinct fine dining feel all curated using products of the highest quality.
Soups
Garden Peas & Veal Bacon Soup
Fresh split green peas topped with veal bacon & cheddar croutons
Green Lentil Soup
Lentil soup topped with crunchy croutons
Cauliflower Soup
Cauliflower soup topped with capers & fresh sage leaves
Oats Soup
Roasted oats soup with organic celery, baby carrots & zucchini, topped with fresh mint & rosemary.
Starters
Chicken & Mushroom Quiche
Chicken breast, bottom mushrooms, topped with cream & parmesan cheese q
Crab & Salmon Cake
Homemade crab and salmon cake, herb-cream sauce, guacamole, served with a crunchy side green salad
Crispy Baby Calamari
Crispy tempura calamari, dash of fresh chilli served with homemade lemon-mayo dip
Wasabi Lobster Tempura
Lobster tail tempura on a bed of fresh organic crunchy kale & a side of wasabi mayo
Baby Spinach and Pumpkin Salad
Crunchy baby spinach, roasted pumpkin topped with goat cheese & balsamic dressing
Burrata & Hairloom Tomato Salad
Multicoloured hairloom tomatoes, burrata cheese topped with homemade pesto dressing
Quinoa Mango Avocado Salad
Multicoloured quinoa on a bed of green mango, avocado, tomato & feta cheese drizzled with lemon confit dressing
Avocado Sugar Snap Pea Salad
Avocado, crunchy snow peas, edamame, arugula leaves dressed in a home-made pesto sauce topped with grilled chicken breast
Lentil Salad
Brown lentil, mixed crunchy green lettuce, multicoloured zucchini, peppers topped with lemon mustard dressing, roasted pine nuts and feta cheese
Cottage Cheese Salad
Crispy bell pepper pure marinated cottage cheese with side of organic spinach, cucumber & tomato salsa.
Mains
Prawn Risotto
Lemon confit infused risotto topped with jumbo prawns
Baby Squid Pistachio Pesto Pasta
Durum pasta in home made pistachio pesto sauce topped with fresh crunchy broccoli, asparagus, sun dried tomato & grilled baby squid.
Rigatoni Arabiatta Pasta
Rigatoni pasta in homemade arabiatta sauce & a hint of chilli
Spaghetti Alfredo Pasta
Gluten free spaghetti tossed in white sauce topped with crunchy snow peas and grilled chicken breast
Lobster Pomodoro Pasta
Fresh grilled lobster served with flavourful homemade pomodoro spaghetti
Seafood Pasta
Spaghetti in homemade plum tomato sauce loaded with fresh mixed seafood
Avocado Burger
Homemade avocado patty, topped with fresh tomato, crunchy lettuce, jalapeños & gherkin sauce served with sweet potato fries and a crunchy side green salad
Sweet Potato Quinoa Burger
Quinoa, spinach and sweet potato patty, fresh tomato, crunchy lettuce, gherkins, smoked harissa sauce served with sweet potato fries and a crunchy side green salad
Traditional Fish & Chips
Cod fish fillets rolled in quinoa, bedded in mushy peas, served with hand cut potato fries & tartar sauce dip
Beef Wellington
Beef tenderloin coated with pate and duxelles, wrapped in puff pastry served with mashed potato, seasonal grilled vegetables, drizzled with beef dew
The English Roast
Choice of a Half Grilled Chicken or Rump Steak served with traditional Yorkshire pudding with a side of mash potatoes, grilled vegetables and drizzled with onion gravy
Shepherds Pie
Tender beef casserole, topped with golden potatoes and served with crunchy side green salad
East London Chicken Tikka
Chicken tikka masala served with a side of turmeric rice and crunchy poppadum
Grilled Lamb Chops
Lamb chops marinated in pomegranate molasses topped with chimichuri sauce and a crunchy side green salad
Osso Buco Saffron Risotto
A slow cooked Osso Buco, fall-of-bone bruised veal accompanied with creamy saffron risotto
Wagyu Rib Eye Steak
Premium Wagyu Rib Eye served with homemade mashed potato, multicoloured garden tomatoes, grilled asparagus & side of signature truffle – mayo sauce
Grilled Scottish Salmon
Grilled salmon on a bed of spinach & chickpea puree, topped with plum tomatoes
Stuffed Whole Sea Bass
Whole Sea Bass stuffed with fresh organic fennel, shallots, cherry tomato & chermoula sauce, served with crunchy rocket salad
Seafood Platter
Scallops, baby calamari, king prawns, sea bass fillet glazed with soy-chilli & served with crunchy grilled vegetables
Sides
Grilled Seasonal Vegetables